Jul 29, 2020 08:16 AM Central
Oily 365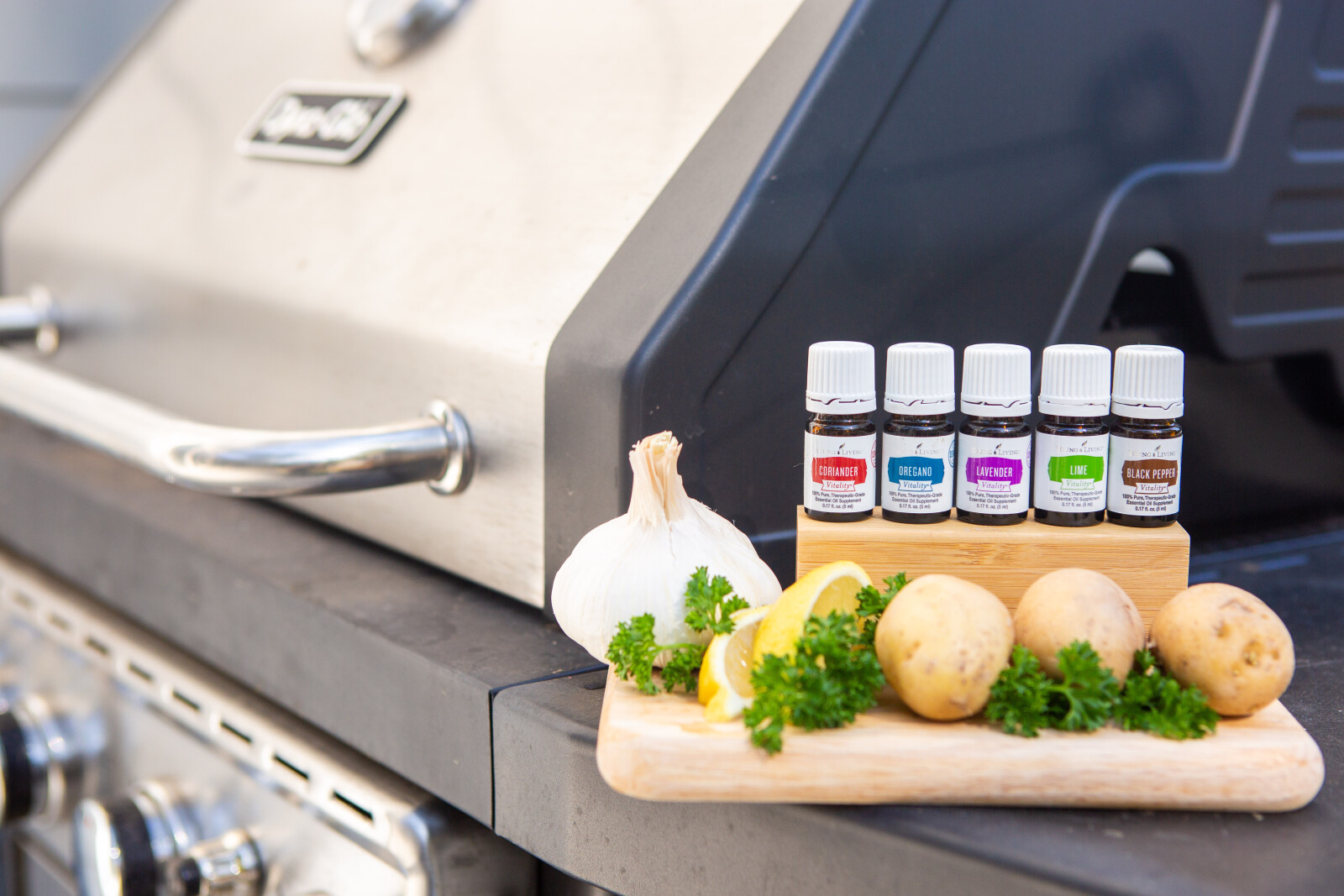 "Summertime is always the best of what might be." ~Charles Bowden
Oh sweet summer! Sunshine, outdoors, beaches, barbeques…
What are some of your favorite things about summer?
Share some of your personal favorites.
For me, summer means giving my oven a break; it's firing up the grill, cold salads, and frozen desserts; sitting around a campfire, roasting marshmallows, and making S'mores and memories with family and friends!
These recipes are perfect for all your summer celebrations - or if you just want to bring some warmth to the winter!
Mediterranean Marinade (The Lavender Life)
Ingredients
¾ cup olive oil

½ cup soy sauce or coconut aminos

1 tablespoon red wine vinegar

1 clove garlic, minced

1 drop

Oregano Vitality

2 drops

Lemon Vitality

1 drop

Black Pepper Vitality
Instructions
Combine all ingredients in a small mixing bowl.

Set meat in a shallow glass bowl or baking pan.

Pour marinade over meat; cover and refrigerate 1–4 hours before grilling.

Discard any unused marinade.
Spicy Potato Salad (The Lavender Life)
Ingredients
6 medium-sized gold potatoes, peeled

4 tbsp olive oil

2 garlic cloves, minced

1 tsp crushed red pepper flakes

2 tsp ground turmeric

2 drops of

Coriander Vitality

4 drops

Lime Vitality

1 drop

Black Pepper Vitality

1 cup

dried Wolfberries

1 cup fresh cilantro, chopped & packed

1 cup fresh parsley, chopped & packed

1 cup fresh dill, chopped & packed

Salt and pepper, to taste
Instructions
Place peeled potatoes in a large pot of boiling water and cook until soft (about 10 minutes).

Drain potatoes; dry and cube.

Heat 2 tbsp olive oil in a cast-iron skillet on medium heat. Stir in garlic, red pepper flakes, and dried wolfberries. Cook for 2-3 minutes then add turmeric.

Toss in potatoes; mix well to coat.

Add cilantro, parsley and dill. Cook 4 additional minutes. Remove from heat.

Mix 2 tbsp olive oil with Coriander, Lime, and Black Pepper Vitality oils.

Drizzle over potato salad until fully mixed.

Add salt and black pepper to taste.

Top with additional red pepper flakes and remaining fresh herbs.

Serve warm or at room temperature.
Homemade Blueberry Lavender Ice Cream (The Lavender Life)
Ingredients
2 cups frozen blueberries

1 cup full-fat coconut cream

4 tsp

Blue Agave

4 drops

Lavender Vitality

Up to ⅓ cup coconut water
Instructions
Line small casserole dish with wax or parchment paper.

Add frozen blueberries, coconut cream, Lavender Vitality, and agave to a high-powered blender or food processor.

Pulse ingredients together, adding coconut water 1 tablespoon at a time to help ingredients blend together smoothly. Be careful not to add too much liquid or ice cream will become too soft.

Pour blended ingredients into the prepared dish, cover, and freeze for 4 hours.

Scoop into bowls, garnish with your favorite toppings & enjoy!
—— / / ——-
What's your favorite way to get a sweet fix without going overboard?
Jun 23, 2020 09:13 PM Central
Oily 365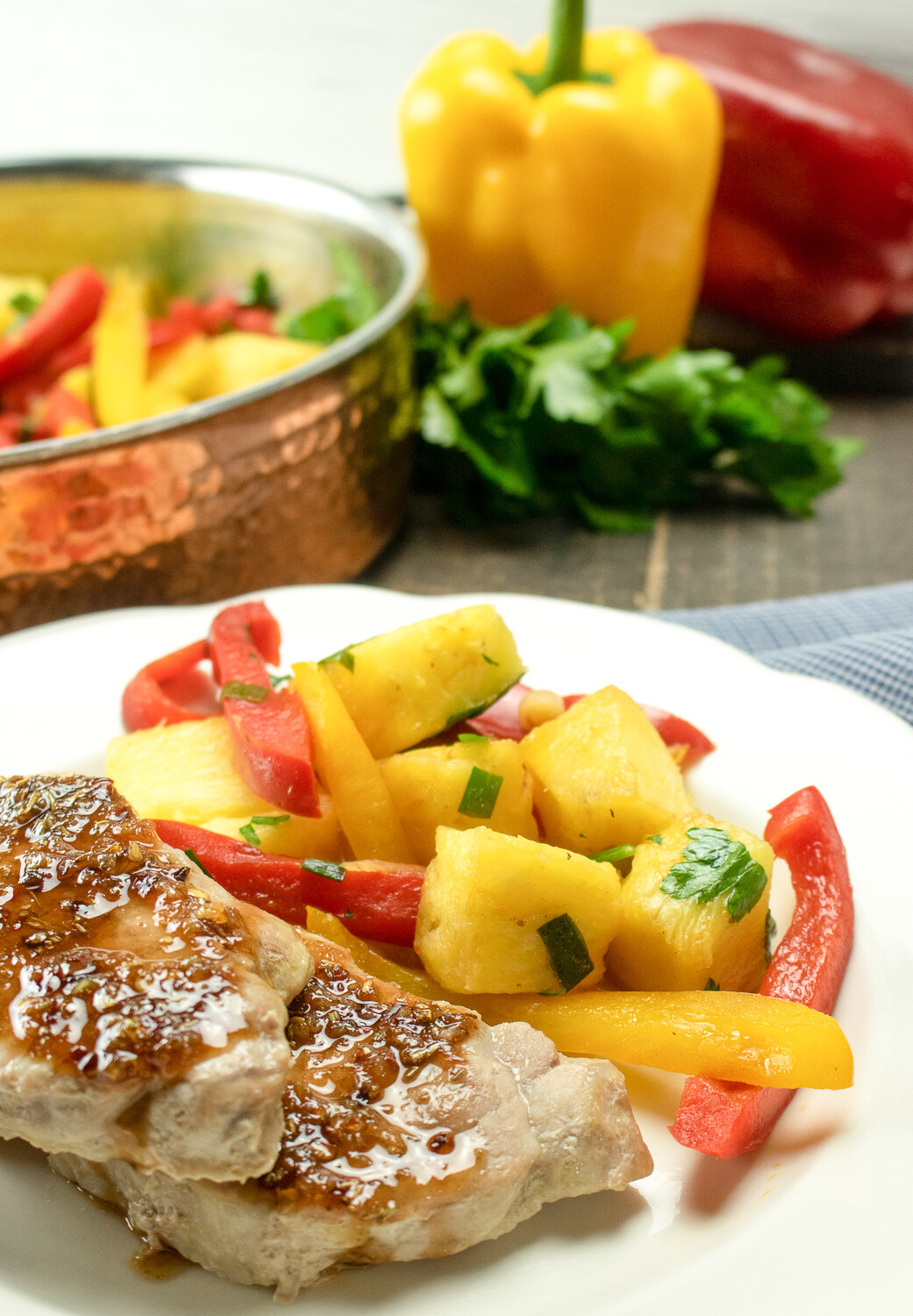 Prep time: 10 minutes
Cook time: 20 minutes
Serves: 4
Ingredients:
2 T. extra virgin olive oil, divided
4 boneless pork chops, approximately 1/2" thick
Sea salt and black pepper, to taste
¼ c. balsamic vinegar
¼ c. real maple syrup
3-4 garlic cloves, minced
2 t. dried rosemary, chopped
½ t. crushed red pepper flakes
1 red bell pepper, sliced thin
1 yellow bell pepper, sliced thin
2 c. fresh pineapple chunks
3 large green onions, diced
¼ c. fresh parsley, chopped
Directions:
Pre-heat oven to 400°F and line a large, rimmed baking sheet with parchment paper or a Silpat® baking mat. Set aside.

Heat one tablespoon olive oil in a large skillet over medium-high heat. Add the pork chops and sear on both sides, approximately 1-2 minutes per side. Season with salt and black pepper, to taste, on each side while cooking.

Remove from heat and transfer the browned pork chops to the prepared baking sheet. Place in the pre-heated oven to roast until cooked through, approximately 12-15 minutes.

Tip: Check for doneness after 10 minutes and adjust final cook time accordingly. (An instant-read thermometer inserted at the thickest point should read 140°F when ready. The internal temperature will continue to rise another 5°F while the pork chops rest).

Once the pork chops are in the oven, combine the vinegar, maple syrup, garlic, rosemary, and red pepper flakes in a small saucepan over medium heat. Season with salt and black pepper, to taste, and cook, stirring occasionally, until slightly thickened, approximately 4-5 minutes. Reduce heat to low and continue to simmer, stirring occasionally, until ready to serve.

Meanwhile, add the remaining olive oil and the sliced peppers to the skillet used to sear the chops and place over medium-high heat. Season with salt and black pepper, to taste. Cook, stirring occasionally, until the peppers soften and develop a bit of color, approximately 6-8 minutes.

Add the pineapple and continue cooking until heated through, approximately 2-3 minutes. Stir in the green onion and parsley, and remove from heat.


Remove pork chops from oven. Cover loosely and let rest for 5 minutes. To serve, pour the glaze over the pork chops and serve alongside the peppers and pineapple. Enjoy!
Dec 15, 2019 07:39 PM Central
Oily 365