Oct 26, 2020 06:47 PM Central
Oily 365
This gorgeous, delicious cranberry-pear sauce is sure to be a hit this holiday season! It is super quick and easy to make and does not include any refined sugar. Instead, it gets its sweetness naturally from ripe pears and a touch of real maple syrup. Once you try this recipe, you'll never look at store-bought cranberry sauce the same.

Prep time: 10 minutes
Cook time: 10-15 minutes, plus 15-20 minutes to cool
Serves: 6
Ingredients:

12 oz. fresh cranberries
2 medium ripe pears, peeled and diced
2 t. fresh ginger, peeled and grated
3 T. fresh rosemary leaves, finely diced
3 T. real maple syrup
¾ c. water
Sea salt, to taste


Directions:

Add cranberries, pear, ginger, rosemary leaves, maple syrup, and water to a medium saucepan. Cook over medium-high heat, stirring occasionally, until the mixture starts to boil and the cranberries burst open, approximately 5 minutes.
Reduce heat to medium-low and simmer for another 5-10 minutes. While cooking, mash the cranberries and pears with a wooden spoon. Season with a pinch of sea salt and stir to combine.
Remove from heat and allow sauce to cool for 15-20 minutes before checking the consistency. Add a little water if the sauce is too thick. Taste and add more maple syrup for a sweeter sauce, if desired.
Optional: For a smoother sauce, blend one-half of the cranberry mixture in a food processor or blender until smooth. Stir puree back into the remaining sauce before serving.
Serve immediately or chill before serving. Enjoy!
Aug 8, 2020 08:09 AM Central
Oily 365
Now that you've gotten a few drink recipes to try, let's move on to some appetizers. This is my favorite category. I could honestly just sit around and eat a variety of appetizers as my dinner. Ha! Could you?
This first one is a favorite for the kids. We use Cinnamon Bark Vitality in this recipe but you could try others to find which one speaks your language - Orange or Lemon Vitality would be two I would try first!
Berry Honey Yogurt Dip
2 cups plain or vanilla Greek yogurt

½ c honey (decrease to ¼ if using vanilla yogurt)

1 drop Cinnamon Bark Vitality
In a medium bowl, combine the yogurt, honey, and Cinnamon Bark Vitality essential oil. Stir well. Cover and refrigerate for at least one hour. Serve with assorted fresh fruit. Store in the refrigerator for 3-4 days.
Did you know? Cinnamon Bark Vitality can help support healthy digestive and immune systems. It's also one of the oils in the well-known Thieves blend.
This next one is a hit with the adults but some kids may enjoy it too! Put your garden to good use and go grab a few ingredients to share with some friends.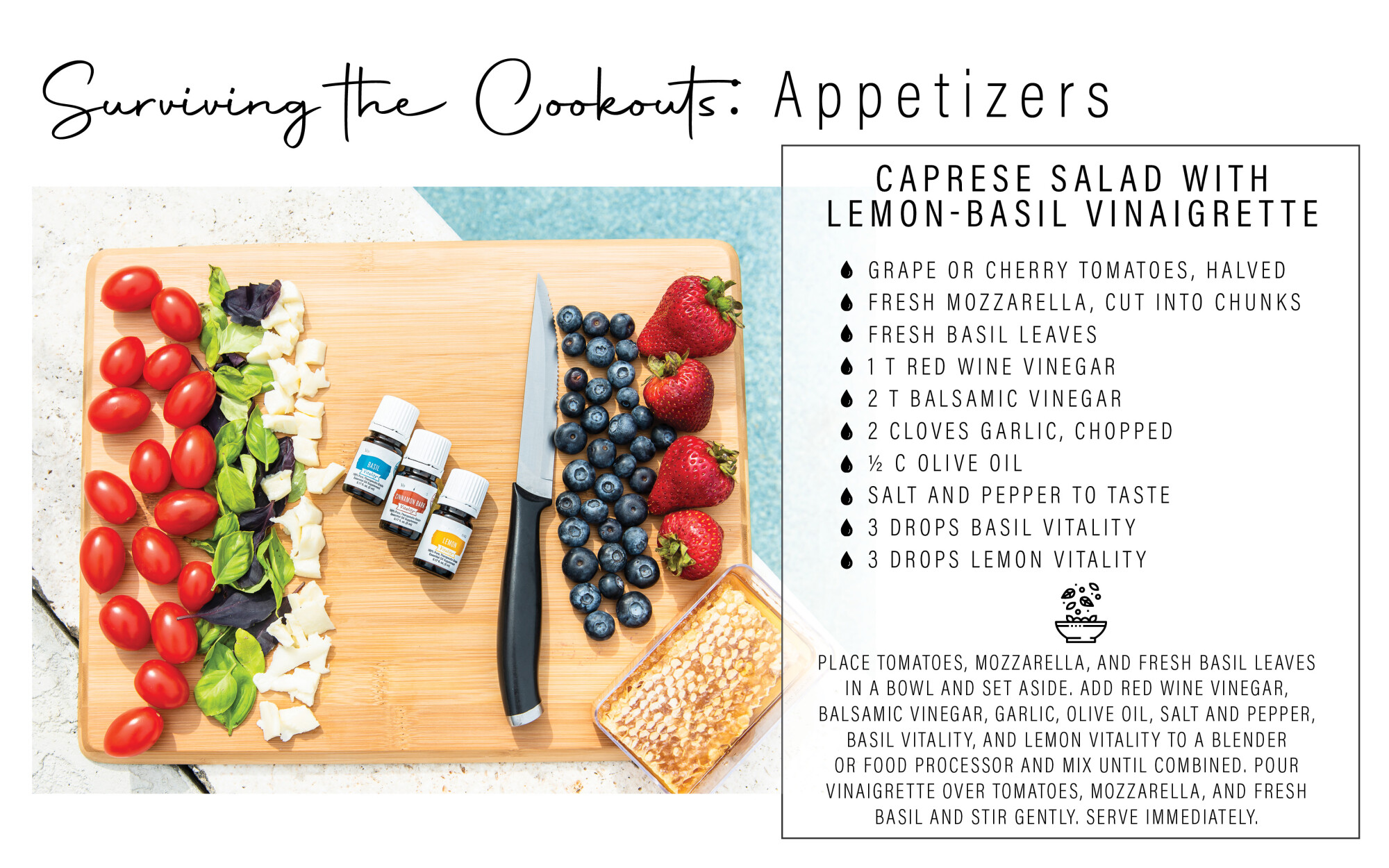 Caprese Salad with Lemon-Basil Vinaigrette
Grape or cherry tomatoes, halved

Fresh mozzarella, cut into chunks

Fresh basil leaves

1 T red wine vinegar

2 T balsamic vinegar

2 cloves garlic, chopped

½ c olive oil

Salt and pepper to taste

3 drops Basil Vitality

3 drops Lemon Vitality
Place tomatoes, mozzarella, and fresh basil leaves in a bowl and set aside. Add red wine vinegar, balsamic vinegar, garlic, olive oil, salt and pepper, Basil Vitality, and Lemon Vitality to a blender or food processor and mix until combined. Pour vinaigrette over tomatoes, mozzarella, and fresh basil and stir gently. Serve immediately.
Did you know? Basil Vitality can support the nervous system and digestive system. Lemon Vitality is an immune system powerhouse and helps to flush the body of toxins.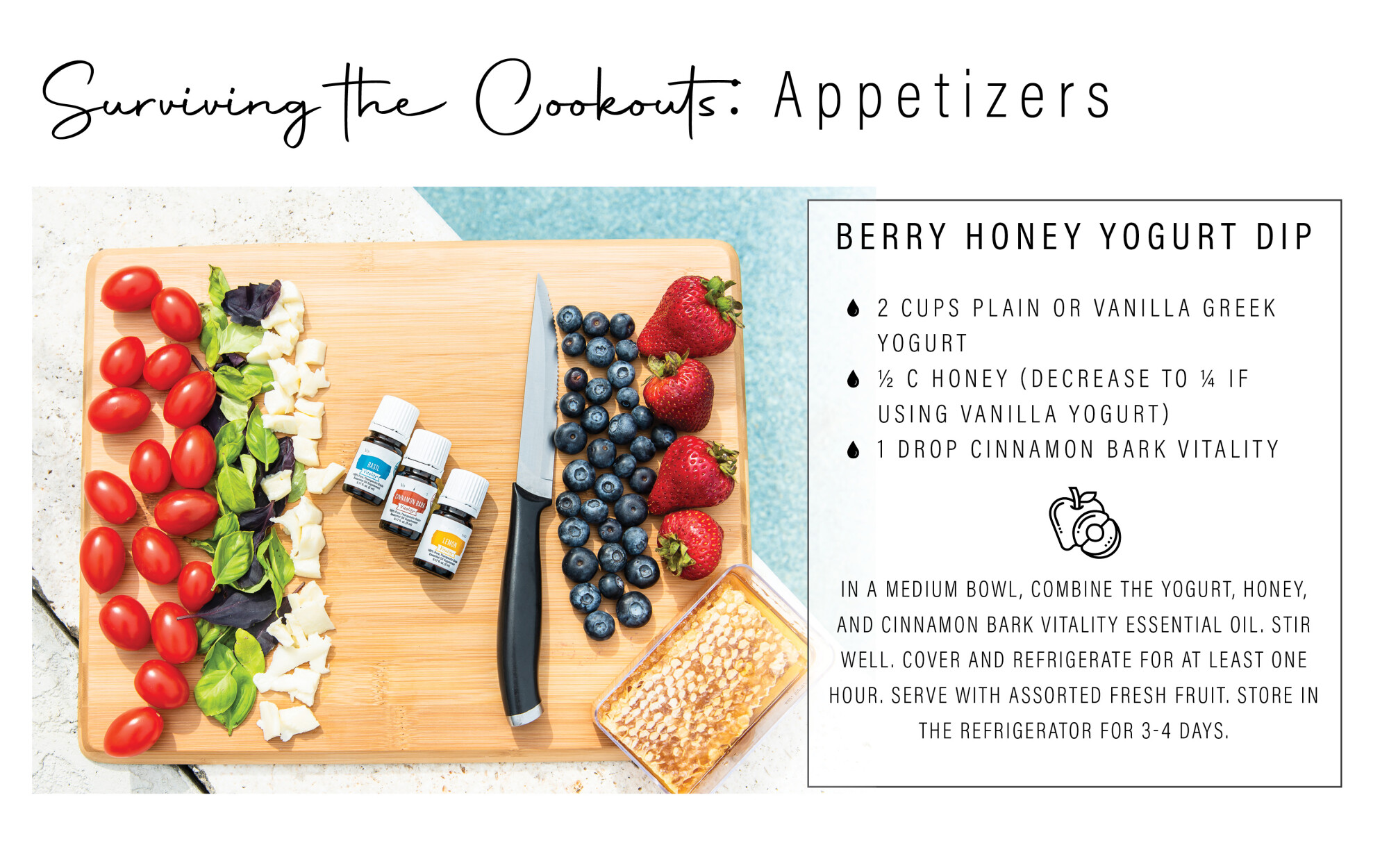 ---- / / ----
Have any other favorite summertime apps you'd like to share? I love a good fresh salsa recipe with oils!